I have been looking for pretty bedding for Baby Girl Whimsy's nursery. It was a bit of a struggle.... At this point in the story, I must admit that I have done almost absolutely nothing to prepare the nursery. We are preparing to get to work on it June 1, but I am generally of the stick my head in the sand train of thought... If I don't think about it or do anything about it, then time will stand still and there is no time line to worry about. Finally a coworker pretty much told me point blank that I am a couple months behind (compared to other moms) and needed to get my rear into gear. That's about when the search began.
I kind looked at stores and found most things for baby girls are (in my humble opinion) neither babyish or terribly girly. I gravitate towards sweet lines, soft colors, (i.e. more shabby chic). and instead have seen lots of character type patterns, brights colors, etc. These are right for some folks but not Baby Girl Whimsy or future Momma Whimsy.
In light of my findings at Target and Babies R' Us, I turned to Etsy, and was... completely overwhelmed. I do not have a big mental capacity right now and there were a billion decisions to make if I went the Etsy route... so I gave up. Insert coworker who fed me websites to check out in order to avoid my head being buried deeper in the sand. She sent me to Restoration Hardware's website. The swooning soon followed.
I almost immediately fell in love with this set up -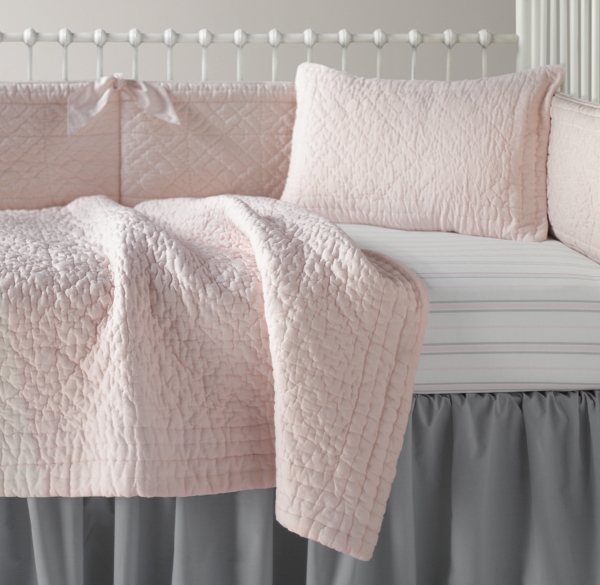 That's when it hit me - I hadn't been loving searching for bedding because I haven't been loving what I was finding. Now that I am on the right track with the bedding design, I am happy to look, plan, and play with designing Baby Whimsy's nursery.
Time to commence the shopping!